NRA Benefactor and Gold Expert Michael Fuljenz Honored With Six Awards At the 2014 World's Fair of Money
(Rosemont, Illinois) -- National Rifle Association sponsor and nationally-known gold and rare coins expert Michael Fuljenz was presented with a total of six major awards by three prestigious organizations at the Chicago 2014 World's Fair of MoneySM, held August 5 - 9, 2014.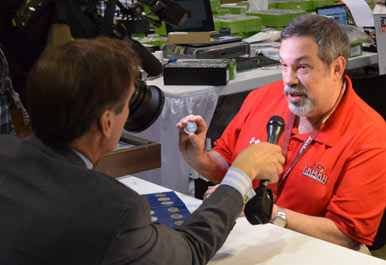 Fox Business Network correspondent Jeff Flock interviewed Mike Fuljenz about rare coins and precious metals at the 2014 World's Fair of Money.
(Photo by Donn Pearlman.)
Fuljenz was praised for his excellence in consumer protection and education efforts as well as outstanding service to the numismatic hobby and profession. The awards were presented by the Congressionally-chartered American Numismatic Association (ANA), the Professional Numismatists Guild (PNG) and the Numismatic Literary Guild (NLG).

He also was interviewed about the gold market by Fox Business Network in a live broadcast segment from the World's Fair of Money.

"We congratulate Mike Fuljenz on this much-deserved recognition of his expertise in the world of collectible coins and precious metals," said Doug Hamlin, Executive Director, NRA Publications.