News
Fox 4 KBTV: America's Gold Expert, Mike Fuljenz, reports on gold and celebrity collectors
By Mike Fuljenz
The Ultimate
That's the goal we mortals strive to attain in myriad fields of endeavor. To climb the highest mountain … run the fastest race … pitch a perfect game … draw a royal flush – these are the kinds of accomplishments few of us ever achieve but most of us aspire to, every now and then, if only in dreams and fantasies.
In the world of collectible coins, there are dozens of superstars – gold pieces, silver dollars and even nickels and cents – that command small fortunes (and sometimes very large ones) because of their great rarity, exceptional condition, unusual historical importance and often combinations of these attributes. But many numismatists agree that one stands alone as the brightest star of all – the single most desirable prize in the realm of coins. In short, the ultimate.
That stunning supernova is the 1907 Indian Head double eagle, the rarest, most majestic example of the dazzling gold coinage designed by famed sculptor Augustus Saint-Gaudens. This coin – a unique proof pattern struck in extremely high relief – is the only example that shows the artist's work exactly the way he meant it to appear. Intriguingly, it's a composite of the two coins Uncle Sam issued bearing the artist's designs: the beautiful Indian Head eagle, or $10 gold piece, and the elegant Striding Liberty double eagle, or $20 gold piece.
Patterns have been described as "might-have-been" coins. Generally speaking, a pattern is a coin struck by a government mint to demonstrate something new – a new design or inscription or perhaps a new denomination – and typically, though not always, struck in the same metal intended for use on regular coins of that type. Patterns carry a statement of value, but are not legal tender because they were never monetized.
Gold Expert Mike Fuljenz Speaks to Police Agencies on Numismatic Crimes
(Beaumont, Texas) -- Sandwiched between receiving an award, autographing copies of his book and purchasing gold coins to fulfill his customers' orders, America's Gold Expert® , Michael Fuljenz recently was a keynote speaker at a special training course for Texas law enforcement personnel on the topic of investigating crimes involving rare coins, bullion and jewelry.
Fuljenz provided seminar participants with information on where they can promptly get assistance.
Mike Fuljenz giving seminar to police agencies regarding investigating crimes involving rare coins, bullion and jewelry.
Mike Fuljenz comments on Counterfeit gold bars discovered in New York City
By Vignesh Ramachandran and NBC News

New York News | NYC Breaking News

The issue of counterfeit gold is re-emerging after a reputable merchant in Manhattan discovered he'd bought $100,000 worth of fake gold bars, WNYW reported. When merchant Ibrahim Fadl drilled into several of the gold bars he'd bought from a regular source, he discovered they were actually filled with gray tungsten.
America's Gold Expert Michael Fuljenz Honored Again at World's Fair of Money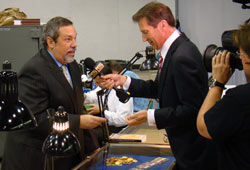 Michael Fuljenz (left), in Beaumont, Texas, is shown being interviewed about gold by FOX Business Network reporter Jeff Flock at the 2011 Chicago World's Fair of Money.
(Philadelphia, Pennsylvania) – America's Gold Expert, Michael Fuljenz in Beaumont, Texas, set an unparalleled record of achievement at the World's Fair of Money in Philadelphia, August 7 - 11, 2012. He received another six prestigious industry awards, continuing a string of honors and accomplishments at these annual gatherings of the world's top rare coin and precious metals dignitaries.

The World's Fair of Money is an international event sponsored by the nonprofit, congressionally-chartered American Numismatic Association.

Since 1986, Fuljenz now has won an unequaled 44 awards in 10 different categories from the Numismatic Literary Guild (NLG), a respected nonprofit organization composed of authors, editors and publishers who cover rare coins, paper money and precious metals. The esteemed awards are presented at the annual World's Fair of Money conventions, and Fuljenz set a record at the 2012 event.

"No one else I can recall has ever won in so many diverse categories over the years," stated NLG Executive Director Ed Reiter, a former columnist for The New York Times.

One of the 2012 awards is for Best Dealer Publication for Fuljenz' "Investors Profit Advisory (Personal Gold Guide)." This was the fifth consecutive year he has won in this important category. His expertise in the area of precious metals has led to numerous interview requests from local, regional and national news media over the years. You can watch a video of Fuljenz being interviewed by the FOX Business Network during the 2011 Chicago World's Fair of Money here: http://t.co/OJ5HGQH.
<<

Start

<

Prev

1

2 3 4 Next > End >>


Page 1 of 4