News
NRA Benefactor and Gold Expert Michael Fuljenz Honored With Six Awards At the 2014 World's Fair of Money
(Rosemont, Illinois) -- National Rifle Association sponsor and nationally-known gold and rare coins expert Michael Fuljenz was presented with a total of six major awards by three prestigious organizations at the Chicago 2014 World's Fair of MoneySM, held August 5 - 9, 2014.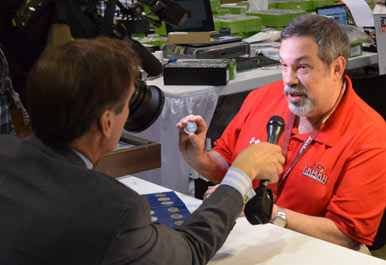 Fox Business Network correspondent Jeff Flock interviewed Mike Fuljenz about rare coins and precious metals at the 2014 World's Fair of Money.
(Photo by Donn Pearlman.)
Fuljenz was praised for his excellence in consumer protection and education efforts as well as outstanding service to the numismatic hobby and profession. The awards were presented by the Congressionally-chartered American Numismatic Association (ANA), the Professional Numismatists Guild (PNG) and the Numismatic Literary Guild (NLG).

He also was interviewed about the gold market by Fox Business Network in a live broadcast segment from the World's Fair of Money.

"We congratulate Mike Fuljenz on this much-deserved recognition of his expertise in the world of collectible coins and precious metals," said Doug Hamlin, Executive Director, NRA Publications.
Fox 4 KBTV: Mike Fuljenz Explains Why Gold Historically Rises In The Fall When Stocks Often Falter
As you probably know, ICTA is the national trade association that is the "watch dog" for the coin/precious metals community, most especially on the federal level. We're a comparatively very small association and can only do so much with our small staff. When being proactive with in-state dealers to try to achieve a state sales tax exemption on coins and precious metals, they usually hire a lobbyist and then work with ICTA for the education part. We then all work together to first educate the lobbyist who then may find an appropriate legislator to sponsor the bill before going to the next step of educationg the rest of the legislators. This is slightly an oversimplification, but you get the idea.
Fuljenz Helps Eliminates Taxes on Sales of Coins in Texas
By Ed Reiter – Executive Director, Numismatic Literary Guild
Recently, hobbyist and investors were pleased to learn that legislatures in two states, Texas and Louisiana, had voted to eliminate tax on sales of coins and precious metals. Both states already were providing a sales tax exemption on coin and bullion transactions of $1,000 or more, but the new legislation eliminates that threshold in both states and removes the tax from sales of any amount.
Mike Fuljenz, of Beaumont, Texas spearheaded the fight in the Lone Star State, hiring a lobbyist and waging a two-year campaign to block threatened removal of the limited exemptions then in effect. "There were people pushing to do away with the exemption over $1,000," Fuljenz said. "We not only got the legislature to preserve that exemption, but ended up gaining a total exemption on everything."
Numismatist Mike Fuljenz is lauded by Doug Davis for his classes about the complexities of numismatic crime
Mike Fuljenz helps 42 Florida detectives become more knowledgeable about how to handle and investigate numismatic crime.
<<

Start

<

Prev

1

2 3 4 5 6 Next > End >>


Page 1 of 6