Metals Market Report 04-15-2014

April 2014, Week 3 Edition
Gold has been very volatile in the last week, rising from below $1284 on April 3 to $1330 on April 14 before correcting back to $1300 on Tuesday, April 15. Still, it's encouraging to see gold remain slightly above $1300 after starting the year at $1200. Meanwhile, the Dow Jones Industrials are down over 2% and the once-glamorous NASDAQ tech stock index fell 5% in the last week. Gold rose Friday on high producer price inflation and then got a boost Monday on a revival of violence in Ukraine, but consumer price inflation (released Tuesday) was "tame," so gold retreated, despite continuing tensions in the Ukraine.
Is China "Losing its Taste" for Gold?
Another reason for gold's decline on Tuesday was a strange article in The Wall Street Journal, titled "China is Losing its Taste for Gold." After 6,000 years of honoring gold, after finally being able to afford to buy gold as a luxury after centuries of living absolute poverty, after a decade of liberalizing laws to allow wider gold ownership in China, after setting a record all-time high for both gold production and gold consumption in 2013, and after a rapid acceleration in gold demand in China during the first two months of 2014, all of a sudden China lost its "taste" for gold? That word does not pass the "smell" taste.
The authors cite an economic "slowdown," but falling from 8.0% growth to 7.5% is like slowing down from 80 miles per hour to 75 mph. They also cite "constrained credit markets," but the Chinese buy their gold for cash, as a protection against paper currency depreciation. Gold should become even more popular in China when speculative paper-related investments fail. The article further claims that Chinese demand may be "flat" this year, but another way of saying that would be that Chinese demand would "remain at all-time highs," which is more bullish than bearish. They also use the word "may," which means they are guessing. Demand could also rise - it's anyone's guess - but the longer term is more secure. The World Gold Council is engaged with the Chinese government on how to make gold buying more accessible in China. China's middle class will grow from 300 million today to 500 million in the next five years. The WCG estimates that private sector gold demand will surge another 20% by 2017.
New Silver Eagle on the Horizon
The silver American Eagle, the best-selling U.S. bullion coin for more than a generation, could be on the verge of an exciting makeover.
The United States Mint is considering a dramatic new design for the coin's reverse - one that depicts a powerful naturalistic eagle. If adopted, it would replace the small heraldic eagle shown on that side of the coin since it was first issued in 1986.
If, in fact, a new Silver Eagle with a brand-new reverse does enter production in 2015, as now seems likely, the series figures to gain even greater appeal for those who consider these coins to be collectibles. With two distinct varieties to acquire, the series would seem certain to attract new enthusiasts, and existing collectors would have more incentive to fill in any gaps in their "Type I" sets, if that portion is complete.
The new design was one of 44 prospective reverses submitted by the Mint to the Citizens Coinage Advisory Committee, the federal advisory panel that reviews proposed designs for coins and national medals and makes recommendations on how they might be improved. From this initial group, the committee chose 16 to examine more closely before anointing the naturalistic eagle as its favorite.
All 44 initial candidates were eagle designs considered for use on other coins through the years but not selected. The panel's first choice was fresh in mind, however, having been submitted only a few months earlier as a possible reverse for a 2015 half eagle ($5 gold piece) marking the 225th anniversary of the U.S. Marshals Service, the oldest American federal law enforcement agency. The committee had expressed interest in it then, as well, but the Marshals Service preferred a different design and that ended up being chosen.
Several members of the Citizens Committee likened the eagle it favors for a revamped Silver Eagle to the eagle in flight on the reverse of 1836 to 1839 Gobrecht silver dollars. The Gobrecht design has long been acclaimed as an exceptional achievement in U.S. coinage art.
A sketch of the new design provided to the media still bears a small inscription along the bottom rim embodying the motto of the U.S. Marshals Service: "Justice, Integrity, Service." This would not appear on the Silver Eagle's reverse. CCAC members also asked for several other modifications.
These included: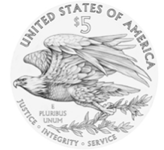 Reorientation of the eagle to show it flying slightly upward;
Realignment of the beak so it isn't too close to the rim;
Preparation of multiple renditions - both with and without an olive branch and with and without arrows - to give the committee options to consider; and
Use of appropriate inscriptions, including the denomination of the coin ($1) and its weight and fineness in silver (1 oz., .999-fine silver).
In recent years, the Citizens Committee has gone beyond just passively waiting for the Mint to submit design proposals and displayed greater activism - offering input beforehand on which current designs should be considered for replacement and what kind of artwork would be appropriate.
Essentially, that's what happened with the Silver Eagle. CCAC members have been calling for revision of the one-ounce silver coin since 2011, when it reached its 25th - or silver - anniversary. Under federal law, U.S. coin designs are eligible for replacement only after reaching that milestone. Earlier replacement requires congressional approval.
The committee has shown little or no interest in revising the Silver Eagle's obverse, which carries the same design as the obverse of the much admired Walking Liberty half dollar. That classic design by sculptor Adolph Weinman was chosen for reuse on the silver bullion coin because it is so familiar to millions of Americans and so highly regarded as a masterpiece of U.S. coinage art. For similar reasons, the obverse of Augustus Saint-Gaudens' magnificent double eagle ($20 gold piece) was chosen for the obverse of the gold American Eagle.
The Citizens Committee hasn't issued a similar call for replacement of the Gold Eagle's reverse, which features a "family of eagles" design fashioned by sculptor Miley Tucker-Frost, formerly Miley Busiek. The reason might be that Miley Tucker-Frost's design reinforces the "family values" theme of the gold bullion coinage, which constitutes a family in its own right: a basic one-ounce piece plus fractional coins containing one-half, one-fourth and one-tenth of an ounce of gold. By contrast, the design on the Silver Eagle's reverse is more generic and the silver coin is minted only in the one-ounce version.
The heraldic-eagle artwork currently appearing on the Silver Eagle's reverse was designed by John Mercanti. At the time, he was an assistant sculptor-engraver at the Philadelphia Mint. He later went on to become senior member of the staff, and was named chief engraver by Mint Director Edmund Moy in 2009, after retiring in 2011.
The Silver Eagle was conceived as an inexpensive way for Americans to make a small investment in silver for a modest markup over the value of the ounce of precious metal it contains. It was looked upon as a bullion coin - one whose value at any given time would be determined primarily by the market price of silver. Over the years, however, many coin hobbyists have come to regard Mint State examples in exceptional condition as being worth significant premiums as collectibles. Proof Silver Eagles have also helped fuel this numismatic interest.
The CCAC's endorsement of the new design is just the beginning of a still-lengthy path to approval and production. All designs rendered by the Mint's engraving staff based on the committee's directions will need to be returned to the panel for review, and also be reviewed by the federal Commission of Fine Arts before being sent to the Treasury secretary for final approval.

Important Disclosure Notification: All statements, opinions, pricing, and ideas herein are believed to be reliable, truthful and accurate to the best of the Publisher's knowledge at this time. They are not guaranteed in any way by anybody and are subject to change over time. The Publisher disclaims and is not liable for any claims or losses which may be incurred by third parties while relying on information published herein. Individuals should not look at this publication as giving finance or investment advice or information for their individual suitability. All readers are advised to independently verify all representations made herein or by its representatives for your individual suitability before making your investment or collecting decisions. Arbitration: This company strives to handle customer complaint issues directly with customer in an expeditious manner. In the event an amicable resolution cannot be reached, you agree to accept binding arbitration. Any dispute, controversy, claim or disagreement arising out of or relating to transactions between you and this company shall be resolved by binding arbitration pursuant to the Federal Arbitration Act and conducted in Beaumont, Jefferson County, Texas. It is understood that the parties waive any right to a jury trial. Judgment upon the award rendered by the Arbitrator may be entered in any court having jurisdiction thereof. Reproduction or quotation of this newsletter is prohibited without written permission of the Publisher.