Media Appearances
New York Times

USA Today

Bloomberg TV

NRA News

AMAC - National Monthly Gold Column

MoneyNews.com - National Monthly Gold Column

NBC News

CNBC

Fox Business

CBS Moneywatch

SmartMoney (The Wall Street Journal)

Kiplinger's

Newsmax
What Others Are Saying
"The fact that since 1986 Mike Fuljenz has won so many major awards in so many diverse categories, including the NLG top award 'The Clemy,' underscores how important his peers in the rare coin and precious metals markets view Mike's excellent analysis and reporting."

Ed Reiter, Executive Director,
Numismatic Literary Guild &
New York Times Former Columnist
"The Congressional Medal of Honor Foundation salutes Mike Fuljenz for all he does to support our men and women in uniform who defend our freedoms."
Nicholas Kehoe, Former President
Congressional Medal of Honor Foundation & Lieutenant General USAF (Ret)
"Count me among Mike Fuljenz's numerous admirers. His strong leadership, input and support of the American Numismatic Association were instrumental in formulating ANA's coin grading and authentication policies, which is a testament to his commitment to the industry. He is a leader in the coin industry."
Robert Leuver,
Former Director,
Bureau of Engraving & Printing
Former Executive Director,
American Numismatic Association


"Mike Fuljenz has been a member in good standing of the American Numismatic Association (ANA) since 1980. Mike has taught seminars for ANA almost every year since 1982 on advanced coin grading, detection of counterfeit coins, and our "super course" on gold, silver and commemorative coins…He is simply a terrific teacher."
James Taylor,
Former Director,
ANA Educational Services


Welcome to Mike Fuljenz's Official Site
Michael Fuljenz admits, "I love coins. From the very first Indian quarter-eagle gold piece I bought for my personal collection, to the latest batch of twenty-dollar gold pieces that I gathered together for a group of collectors, I've been hooked." Michael adds, "I worked hard, saved up to buy favorite coins and embarked on what I know now is a lifelong love affair. Coin collecting fires my imagination, and I want to pass my love of coins on to others."
Numismatic Specialization:
Coin grading
Coin authentication
Coin appraisal
Coin fraud concerns
Coin fraud lawsuit help
Coin arbitration help
Coin attorney help
Coin & bullion advice
Luckily, I've turned my love for coins and the glimpses of art and history they convey into a vocation. I've been privileged to share my fascination with thousands of collectors and investors, many of whom have become lifelong friends along the way.
---
By Mike Fuljenz
The Ultimate
That's the goal we mortals strive to attain in myriad fields of endeavor. To climb the highest mountain … run the fastest race … pitch a perfect game … draw a royal flush – these are the kinds of accomplishments few of us ever achieve but most of us aspire to, every now and then, if only in dreams and fantasies.
In the world of collectible coins, there are dozens of superstars – gold pieces, silver dollars and even nickels and cents – that command small fortunes (and sometimes very large ones) because of their great rarity, exceptional condition, unusual historical importance and often combinations of these attributes. But many numismatists agree that one stands alone as the brightest star of all – the single most desirable prize in the realm of coins. In short, the ultimate.
---

December 2013, Week 2 Edition
Barron's reported in their weekend edition that Germany's Commerzbank sees gold reaching $1,400 by the end of 2014. That's not the $1,800 or more that we're all hoping for, but it's more positive than most big banks are predicting. Commerzbank says that bonds and stocks will not be as attractive next year as this year - rising interest rates will hurt bonds, and stocks will be hard put to add to this year's 25% gains.
---
On the bearish side, the Union Bank of Switzerland (UBS) cut its 2014 forecast for gold to $1,200 per ounce, down from its previous forecast of $1,325. UBS also cut its 2014 forecast for silver to $20.50 per ounce, down from $25. That means UBS sees a small rise in silver and a small drop in gold. (Boring!)
---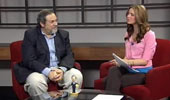 Mike Fuljenz discusses celebrity coin collectors, the volatile gold market, a three million dollar nickel and the proper cleaning of tarnished coins.



---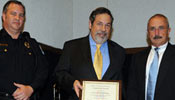 Michael Fuljenz was a keynote speaker at a special training course for Texas law enforcement personnel on the topic of investigating crimes involving rare coins, bullion and jewelry. Mike provided seminar participants with information on where they can promptly get assistance
---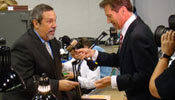 (Philadelphia, Pennsylvania) – America's Gold Expert, Michael Fuljenz in Beaumont, Texas, set an unparalleled record of achievement at the World's Fair of Money in Philadelphia, August 7 - 11, 2012. He received another six prestigious industry awards, continuing a string of honors and accomplishments at these annual gatherings of the world's top rare coin and precious metals dignitaries…
Watch Mike's FOX Interview Here: http://t.co/OJ5HGQH
---
I am urging coin collectors and investors nationwide to promptly contact their Congressional representatives in support of the recently introduced Collectible Coin Protection Act (HR5977).
I was among a half dozen of the country's numismatic leaders who met in Washington, DC on June 28, 2012 with Congressional leaders and staff members to discuss the importance of the proposed legislation to protect the public.