News
Mike Fuljenz's straight talk on the investment value of gold
With permission from Beaumont Business Journal

Mike Fuljenz, of Beaumont, is not just the head of a thriving gold business with clients throughout the United States- though he certainly is that.
The author, broadcaster and teacher is one of the most universally decorated coin experts of the last 30 years. His 2010 book "Indian Gold Coins of the 20th Century" , has quickly become a key resource for those interested in these beautiful collectibles.

From his many appearances on CNBC and Fox News to his Beaumont radio show to his work guiding journalists as they attempt to navigate the Byzantine world of collectible coins and those who traffic in them, he has become a national figure.

"Mike Fuljenz is the nation's No. 1 coin and bullion expert. No one knows physical precious metals better," is how Franklin Sanders, editor of The Moneychanger, put it.

A school teacher and later principal before making his mark in the world of numismatics, he has remained committed to children and education. But it is his knowledge of the gold market that prompted the Beaumont Business Journal to make Fuljenz the subject of our second BBJ Interview.
-----James Shannon

Coin Expert Mike Fuljenz of Beaumont Wins Five Journalism Awards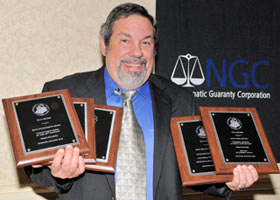 (Beaumont, Texas) – Coin expert Mike Fuljenz, of Beaumont, Texas has been honored with five national awards for excellence in print and broadcast journalism for his writings and reports about gold and the rare coin market. The five first-place honors established a new record for Fuljenz, and no individual received more awards in this year's competition.

The awards were presented by the Numismatic Literary Guild (NLG), a nonprofit organization founded in 1968 that annually presents national awards to recognize outstanding journalism on the diverse subject of money from ancient to modern. Considered to be the epitome of writing and broadcasting excellence in this field, the 2010 awards were presented at the American Numismatic Association World's Fair of Money in Boston, Massachusetts on August 12, 2010.

According to NLG Executive Director Ed Reiter, Fuljenz received the Best Radio Report Award (in conjunction with KLVI 560 in Beaumont) for his work regarding an on-going series of investigative stories urging consumers to be cautious when selling gold coins and jewelry to some traveling gold buyers.

4/22/2010 THE EISENHOWER DOLLAR
By Ed Reiter

"I Like Ike!"

It was one of the simplest – and shortest – campaign slogans in the history of U.S. presidential politics. It was one of the most effective, as well.

Of course, its effectiveness derived in large measure from the vast popularity of the man who ran for president on that slogan.
4/21/2010 THE HOBBY'S MATH COMMUNICATOR
By Ed Reiter

History and math, like oil and water, wouldn't seem to mix very well. Both subjects figure prominently, though, in the life and times of R.W. "Bob" Julian.
2/15/2010 AN INSIGHTFUL RULING
By Ed Reiter

It's said that justice is blind.

That was my feeling – quite literally – when I first learned several years ago of a federal ruling by a District Court judge ordering the U.S. Treasury Department to begin developing new paper money to accommodate the needs of the visually impaired.

<< Start < Prev 1 2

3

4 Next > End >>


Page 3 of 4