KFDM-TV Channel 6 Crime Stoppers Interviews Mike Fuljenz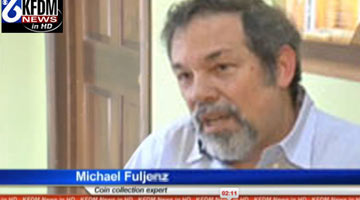 KFDM-TV Channel 6 in my hometown of Beaumont,Texas recently did a Crime Stoppers story about a Texas dealer who reportedly paid only $16,000 for nearly $250,000 of coins sent to him by an 82-year old California woman. The interviewer asked me for consumer protection advice so other people can avoid encountering this kind of problem. My suggestion was simply to remember: "It's important to do your homework before selling or buying gold and silver coins."

There are easy-to-do precautions you can and should take before you make a purchase or sell to someone you're not familiar with. Too often I hear horror stories about people who grossly overpaid for what they purchased, never received the merchandise they ordered, or were grossly underpaid — or never paid — for what they sold. In one case I personally helped the news media investigate and expose a traveling "hotel buyer" who claimed in his big advertisements he would "Pay the Highest Prices" but offered only $60 for a gold coin actually worth $10,000.

When you sell, sell to a specialist. If you have gold coins, sell them to a gold coin dealer, perhaps in your own community. Specialists usually will pay far more than a pawn broker, jeweler or hotel buyer who is in town for a day or two and then gone.