Media Appearances
New York Times

The Wall Street Journal

New York Times

USA Today

Bloomberg TV

NRA News

AMAC.us (Money Columnist)

MoneyNews.com
(Insider Columnist)

Forbes

NASDAQ

NBC News

CNBC

Fox Business Network

CBS Moneywatch

SmartMoney (Personal Finance Magazine of Wall Street Journal)

Kiplinger's

Newsmax
What Others Are Saying
"The fact that since 1986 Mike Fuljenz has won so many major awards in so many diverse categories, including the NLG top award 'The Clemy,' underscores how important his peers in the rare coin and precious metals markets view Mike's excellent analysis and reporting."

Ed Reiter, Executive Director,
Numismatic Literary Guild &
New York Times Former Columnist
"The Congressional Medal of Honor Foundation salutes Mike Fuljenz for all he does to support our men and women in uniform who defend our freedoms."
Nicholas Kehoe, Former President
Congressional Medal of Honor Foundation & Lieutenant General USAF (Ret)
"Count me among Mike Fuljenz's numerous admirers. His strong leadership, input and support of the American Numismatic Association were instrumental in formulating ANA's coin grading and authentication policies, which is a testament to his commitment to the industry. He is a leader in the coin industry."
Robert Leuver,
Former Director,
Bureau of Engraving & Printing
Former Executive Director,
American Numismatic Association


"Mike Fuljenz has been a member in good standing of the American Numismatic Association (ANA) since 1980. Mike has taught seminars for ANA almost every year since 1982 on advanced coin grading, detection of counterfeit coins, and our "super course" on gold, silver and commemorative coins…He is simply a terrific teacher."
James Taylor,
Former Director,
ANA Educational Services


News
ICTA Board of Directors Member Mike Fuljenz Goes to Washington to Support the Collectible Coin Protection Act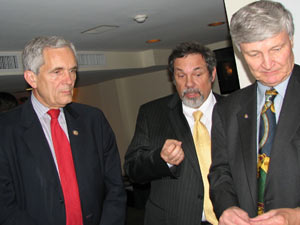 Mike Fuljenz with Rep Lloyd Doggett (D-TX) and Rep Jimmy Hayes (R-LA)
I am urging coin collectors and investors nationwide to promptly contact their Congressional representatives in support of the recently introduced Collectible Coin Protection Act (HR5977).

I was among a half dozen of the country's numismatic leaders who met in Washington, DC on June 28, 2012 with Congressional leaders and staff members to discuss the importance of the proposed legislation to protect the public.

The bill was introduced on June 20, 2012 by co-sponsors Rep. Lamar Smith (R-Texas), Chairman of the U.S. House Judiciary Committee, and Rep. Fred Upton (R-Michigan), Chairman of the U.S. House Energy and Commerce Committee. (It has bipartisan support). HR5977 will strengthen the 39-year old Hobby Protection Act, a law that helps combat counterfeits. We need to bring that law into the 21st century because of new issues that were not even contemplated decades ago.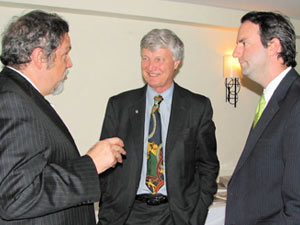 Mike Fuljenz with Rep Jimmy Hayes (R-LA) and James Quinn, Chief of Staff to Rep Bill Cassidy (R-LA)
I applaud the efforts of several organizations working on behalf of HR5977, including the Industry Council for Tangible Assets (ICTA), the Numismatic Guaranty Corporation (NGC) and the Professional Coin Grading Service (PCGS). Former Louisiana Congressman Jimmy Hayes also greatly assisted the numismatic groups in backing HR5977.

I urge every rare coin and bullion coin collector or investor to contact their Congressional representatives and ask them to co-sign and vote for the Collectible Coin Protection Act, HR5977. It will go a long way in combating counterfeits in the marketplace, and could save buyers money and heartbreak.

To find the name and contact information for your local member of the United States Congress, visit www.House.gov and click on "Representatives."

Our customers can take comfort in the fact that I am a member of the ICTA Board of Directors and a former authenticator, grader and educational seminar instructor for the Congressionally-chartered American Numismatic Association. Unlike many other coin companies, the coins you buy from us are looked at by a recognized expert.