The Michael Fuljenz Metals Market Report: April 2012, Week 4 Edition
Gold fell to $1630 Monday, on a weaker euro (and stronger dollar). All commodities fell, which is an indication of a currency-based correction, not a change in supply/demand fundamentals. Last week, gold closed at $1641.50 in London and $1642.80 in New York. For the first three weeks of April, gold fell a net 1.3% vs. a 2.1% decline for stocks, as measured by the S&P 500. Overall, April has been a roller-coaster ride for both stocks and metals, with no clear trend in place, but there are some indications (see below) that gold is about to take the lead over stocks, bonds, currencies and other paper alternatives.
Gold 52 weeks ago (April 21, 2011): $1504
Gold's average price during 2012: $1683.94
Gold's London Low for 2012: $1590 on January 3
Gold's London High for 2012: $1788 on February 29
Last Week In Metals: Gold fell $25 (-1.5%), silver fell $0.58 (-1.8%), platinum fell $21 (-1.4%) and stocks rose by 0.6%.
How the Current Economic News Could Lift Gold Prices, Soon
Gold is down again as the new week opens, but this phenomenon is about 70% due to a "stronger" dollar against the euro, based on new problems in Europe. However, it's important to remember that many world currencies are going down together. They are going down at different rates of decay, so one currency may appear to be "rising" at any given time, but it's still a race to the bottom among major paper currencies.
Within a very few weeks, we might finally see a break in gold's narrow trading range, prompting a surge to $1700. A number of economic and geo-political trends are coming together in the short run to help lift gold out of its narrow trading range. Here are just a few of the major trends taking shape right now:
The euro-zone debt crisis is coming to a head once again. The World Bank and International Monetary Fund met in Washington DC. The meeting was basically a high-level "fund raiser" among solvent nations. Even though these events are filled with boring speeches overflowing with euphemisms, their basic question to the Group of 20 nations was: "Who will put up the next $430 billion to bail out Spain, Italy, Portugal and perhaps Greece again?" The "donors" were falling short of this goal, but - like many charity fund-raisers - the big money donors came through in the end. The fund-raisers will call this "relief for the global economy" but it's really more like "throwing good money after bad."
France's next election could make the euro-debt crisis worse. A trend toward socialism will dry up the sources of funding while creating deeper "entitlement" debts. The leading candidate, socialist Francois Hollande, favors 75% tax rates on the rich, while lowering the age of forced retirement to 60. Already, France enforces a 35-hour-work week, with penalties for working too hard or taking your work home! With yesterday's election being non-conclusive, there will be a run-off election held on Sunday, May 6.
The Federal Reserve's influential "Federal Open Market Committee" (FOMC) is meeting again this week, on April 24 & 25, with their latest monetary policy announcement to come out on Wednesday afternoon. If they hint at another round of stimulus, that could boost gold prices immediately. With the job situation getting worse (rising new jobless claims and fewer new jobs being created), with real estate in the tank and slower GDP growth, the Fed may opt for another round of Quantitative Easing (QE-3).
Tuesday (April 24) also brings the Indian festival Akshaya Trithiya, when physical gold demand often rises to a peak in India. There has been a great build-up of pent-up demand during the recent strike over new taxes on gold imports, but the strike has now ended. Buying generally runs for a week or more after the festival. This time, the weak Indian rupee isn't helping, but we will know the facts soon enough.
1873 $20 Liberty Open 3 MS-61
Periodically, I will post graphs of how various coins have performed over time. For many years, I have liked the historic Type II double eagles, the first double eagle to have the motto "In God We Trust." I even wrote an NLG award-winning book about the series, titled "Type II Double Eagles, 1866-1876." This week's graph shows how $10,000 in scarce MS-61 1873 Open 3 Type II double eagles would have increased over the years that I have purchased them. The graph reflects the price gains of specific coins I have been fortunate to buy over the years, showing an increase from $10,000 to $34,000 in the 15 years since 1997.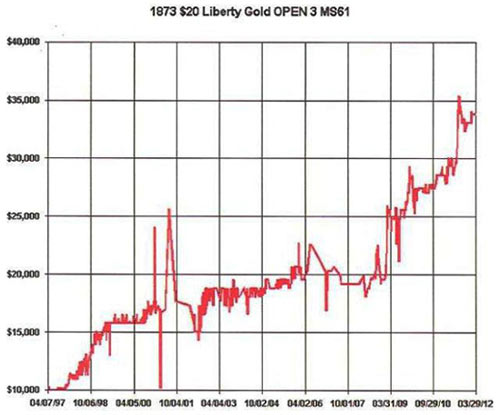 As you can see, there are price dips along the way. That's why I recommend at least a 5-10 year hold period on rare coins. In the shorter time frames in this graph, price performance can lag for a few years, only to be followed by impressive gains. We all know that past performance of one coin does not guarantee future performance for all coins, but we can still learn many lessons from history.

Important Disclosure Notification: All statements, opinions, pricing, and ideas herein are believed to be reliable, truthful and accurate to the best of the Publisher's knowledge at this time. They are not guaranteed in any way by anybody and are subject to change over time. The Publisher disclaims and is not liable for any claims or losses which may be incurred by third parties while relying on information published herein. Individuals should not look at this publication as giving finance or investment advice or information for their individual suitability. All readers are advised to independently verify all representations made herein or by its representatives for your individual suitability before making your investment or collecting decisions. Arbitration: This company strives to handle customer complaint issues directly with customer in an expeditious manner. In the event an amicable resolution cannot be reached, you agree to accept binding arbitration. Any dispute, controversy, claim or disagreement arising out of or relating to transactions between you and this company shall be resolved by binding arbitration pursuant to the Federal Arbitration Act and conducted in Beaumont, Jefferson County, Texas. It is understood that the parties waive any right to a jury trial. Judgment upon the award rendered by the Arbitrator may be entered in any court having jurisdiction thereof. Reproduction or quotation of this newsletter is prohibited without written permission of the Publisher.