Media Appearances
New York Times

The Wall Street Journal

New York Times

USA Today

Bloomberg TV

NRA News

AMAC.us (Money Columnist)

MoneyNews.com
(Insider Columnist)

Forbes

NASDAQ

NBC News

CNBC

Fox Business Network

CBS Moneywatch

SmartMoney (Personal Finance Magazine of Wall Street Journal)

Kiplinger's

Newsmax
What Others Are Saying
"The fact that since 1986 Mike Fuljenz has won so many major awards in so many diverse categories, including the NLG top award 'The Clemy,' underscores how important his peers in the rare coin and precious metals markets view Mike's excellent analysis and reporting."

Ed Reiter, Executive Director,
Numismatic Literary Guild &
New York Times Former Columnist
"The Congressional Medal of Honor Foundation salutes Mike Fuljenz for all he does to support our men and women in uniform who defend our freedoms."
Nicholas Kehoe, Former President
Congressional Medal of Honor Foundation & Lieutenant General USAF (Ret)
"Count me among Mike Fuljenz's numerous admirers. His strong leadership, input and support of the American Numismatic Association were instrumental in formulating ANA's coin grading and authentication policies, which is a testament to his commitment to the industry. He is a leader in the coin industry."
Robert Leuver,
Former Director,
Bureau of Engraving & Printing
Former Executive Director,
American Numismatic Association


"Mike Fuljenz has been a member in good standing of the American Numismatic Association (ANA) since 1980. Mike has taught seminars for ANA almost every year since 1982 on advanced coin grading, detection of counterfeit coins, and our "super course" on gold, silver and commemorative coins…He is simply a terrific teacher."
James Taylor,
Former Director,
ANA Educational Services


Metals Market Report Archive

The Michael Fuljenz Metals Market Report: January 2013, Week 3 Edition
Gold rose slightly ($7) last week, while platinum rose strongly (+$71) and silver rose nearly 1%. The metals began this week with a big move. As of Tuesday morning, January 15 (noon Eastern time), gold is trading at $1683, silver at $31.40 and platinum at $1688, above gold and up 11% for the year so far. Part of the gain is based on a weaker dollar, resulting from the Fed's expansive monetary policies and the government's delay over cutting spending, raising the debt ceiling or shrinking the massive annual budget deficits. In addition, we now have growing trade deficits. Last week, the U.S. Commerce Department said that that our trade deficit rose 15% in November vs. October, up from $42 billion to $48.7 billion.
UPDATE FROM ORLANDO: SOME "FUN" AND BUSINESS IN FLORIDA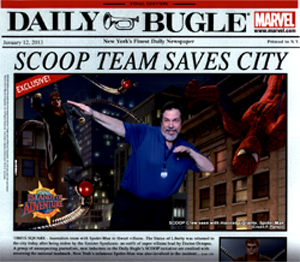 Last week at the Florida United Numismatists (FUN) money show, I was caught by The Daily Bugle in the midst of rescuing the Statue of Liberty (see picture). While that story is fictional, I did meet with several industry leaders, such as the CEO of NGC, Steve Eichenbaum, NGC President Rick Montgomery, the Vice President of PCGS, Miles Standish, former Congressman Jimmy Hayes, former Mint director and Treasury chief of staff, Philip Diehl, plus several editors of leading coin publications and books, and Ray Gregson, a former IRS agent and seminar instructor on cash reporting requirements under the Patriot Act. When I attend these events, it isn't just to buy and sell coins, but it's to discuss important business developments with industry leaders so I can report their latest news and views to you in this metals report.
Of special interest for NRA members: There is a wave of understandable outrage about crime in America, and in particular the tragic murders of school children in Newtown, Connecticut, but many Congressmen (and women) are currently recommending a series of knee-jerk reactions to specific events rather than a rational, well thought-out proposal for an all-encompassing response to the actual rate of gun violence in America.
For instance, the discussion of limiting rounds in our rifles is based on how many bullets it takes to down a deer, which is a caricature of the challenges many hunters face. What seems logical for a San Francisco-based Senator like Dianne Feinstein will not necessarily help property owners and hunters in Texas. What our big-city gun control advocates may not know is that wild hogs are epidemic in Texas and other states, and they can be lethal in numbers. They are very destructive and can be life threatening. Would Senator Feinstein feel comfortable being surrounded (or attacked) by a pack of feral hogs with only 10 rounds or less in her clip? Millions of these destructive creatures are growing in number and roaming the southern U.S., particularly in Texas, and you don't want to be using a single-shot rifle when they attack.
Reasonable minds can reach a rational compromise that might also include stricter ratings on violent TV, movies and video games. America must also address the mental health of those who may need institutional care. To focus on guns and gun registration alone is to curiously ignore a wide array of possible contributing factors to any senseless act of violence.
MORE SIGNS THAT GOVERNMENT SPENDING IS SPINNING OUT OF CONTROL
Last week, we saw three more indicators of a government running out of control: (1) A silly $1 trillion coin that sounds like a Saturday Night Live skit about "change you can believe in," (2) Raising the debt ceiling by fiat, similar to what a military dictatorship might try to do in a crisis, and (3) nomination of a very controversial individual, Jack Lew, as Secretary of the Treasury, the highest financial office in the land.
By the way, one job of the Treasury Secretary is to sign newly-printed dollar bills. If you look at Jack Lew's signature, it's an odd series of loops that look like a declining spiral, a fitting sign of the dollar's continuing decline, resulting from chronic over-spending and over-printing of money (with or without a $1 trillion coin!), all of which is bullish for gold.
A $1 Trillion Coin: It started out as a joke and almost ended as a real coin. During the big debt-ceiling debate of August 2011, some bloggers jokingly suggested America "mint" a $1 trillion coin to magically raise the debt ceiling by adding $1 trillion to the Treasury's balance sheet. Then, Last Monday, New York Times columnist Paul Krugman endorsed the idea, writing: "Should President Obama be willing to print a $1 trillion platinum coin if Republicans try to force America into default? Yes, absolutely." This bizarre idea of a coin to circumvent the debt ceiling was seriously discussed by some Democrats all week long before it was nixed.
When this idea first came up, I refused to write about it, since the idea was so impractical and outlandish. This is an extreme idea, whether it comes from the far left or far right. There is no way such a coin could ever be minted. How do you insure a trillion-dollar coin? The fact that an eminent economist like Professor Paul Krugman advocates such a senseless solution reflects poorly on his research skills or common sense. Whether you're talking about his liberal columns in the New York Times or his comments on political talk shows, he sometimes uses political talking points more than economic reasoning.
Presidential Fiat: Last Friday, the Democratic leaders in the Senate wrote a letter to President Obama, telling him that he could raise the debt ceiling by "executive decree," without Congressional approval. Four Democratic Senators, Harry Reid, Dick Durbin, Chuck Schumer and Patty Murray, told the President, "We believe you must be willing to take any lawful steps to ensure that America does not break its promises and trigger a global economic crisis...without Congressional approval, if necessary." They urged the President to use part of the 14th Amendment - the part that says "the validity of the public debt of the United States...shall not be questioned" - in order to raise the debt ceiling by Presidential fiat.
This sounds like something a dictatorship might do, but it is somewhat consistent with actions by the President to skirt the Constitutional role of the House of Representatives (run by Republicans) as the source of all new spending legislation. Here's another example: In a Wall Street Journal interview a week ago (January 6), House Speaker John Boehner told Stephen Moore, "The President said to me, 'We don't have a spending problem.'" Boehner also said that after he (Boehner) agreed to $800 billion in new taxes, he asked the President, 'What am I getting?,' and the President said: You don't get anything."
In Monday's press conference, President Obama railed against the Republican Congress for not passing the debt ceiling, but he would probably like to forget a speech he gave in March of 2006 when he was a junior Senator from Illinois: "The fact that we are here today to debate raising America's debt limit is a sign of leadership failure. It is a sign that the U.S. Government cannot pay its own bills. It is a sign that we now depend on ongoing financial assistance from foreign countries to finance our Government's reckless fiscal policies. Increasing America's debt weakens us domestically and internationally. Leadership means that 'the buck stops here.' Instead, Washington is shifting the burden of bad choices today onto the backs of our children and Grandchildren. America has a debt problem and a failure of leadership. Americans deserve better." - Senator Barack Obama in 2006 (Wisdom then, wisdom now).
1929 $5 INDIAN GOLD HALF EAGLE MS64
Periodically, I will post graphs of how various coins have performed over time. For many years, I have liked the historic $5 Indian gold coin with the only incused design in our coinage history. I even wrote an NLG award-winning book about the series, titled "Indian Gold Coins of the 20th Century." Currently I believe it is a historically opportune time to acquire better date $5 Indians in better grades. This week's graph shows how multiple coins totaling $100,000 in scarce MS-64 1929 $5 gold half eagles would have increased in the eleven years that I have purchased them. The graph reflects the price gains of actual coins I have been fortunate to buy over the years, showing an increase from $100,000 to $570,000, over five times, in about eleven years.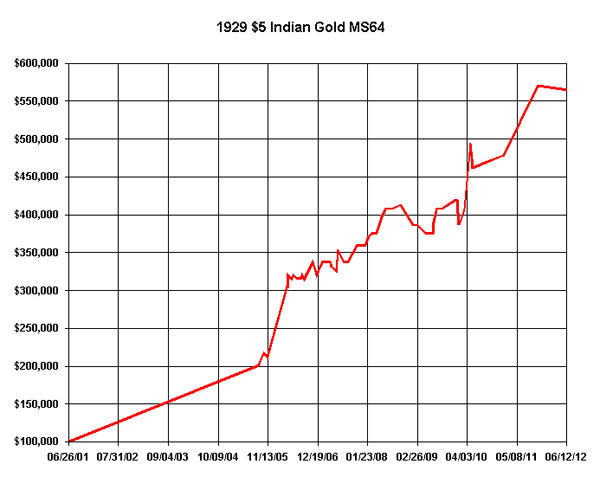 As you can see, there are price dips along the way. That's why I recommend at least a 5-10 year hold period on rare coin purchases. In the shorter time frames in this graph, price performance can lag for a few years, only to be followed by impressive gains. We all know that past performance of one coin does not guarantee future performance for all coins, but we can still learn many lessons from history. Many experts recommend buying better dates and grades because of often better long term performance for much of the past 100 years. Read my book to learn about famous very successful long-term gold coin buyers like Louis Eliasberg.
---

Important Disclosure Notification: All statements, opinions, pricing, and ideas herein are believed to be reliable, truthful and accurate to the best of the Publisher's knowledge at this time. They are not guaranteed in any way by anybody and are subject to change over time. The Publisher disclaims and is not liable for any claims or losses which may be incurred by third parties while relying on information published herein. Individuals should not look at this publication as giving finance or investment advice or information for their individual suitability. All readers are advised to independently verify all representations made herein or by its representatives for your individual suitability before making your investment or collecting decisions. Arbitration: This company strives to handle customer complaint issues directly with customer in an expeditious manner. In the event an amicable resolution cannot be reached, you agree to accept binding arbitration. Any dispute, controversy, claim or disagreement arising out of or relating to transactions between you and this company shall be resolved by binding arbitration pursuant to the Federal Arbitration Act and conducted in Beaumont, Jefferson County, Texas. It is understood that the parties waive any right to a jury trial. Judgment upon the award rendered by the Arbitrator may be entered in any court having jurisdiction thereof. Reproduction or quotation of this newsletter is prohibited without written permission of the Publisher.