Media Appearances
New York Times

The Wall Street Journal

New York Times

USA Today

Bloomberg TV

NRA News

AMAC.us (Money Columnist)

MoneyNews.com
(Insider Columnist)

Forbes

NASDAQ

NBC News

CNBC

Fox Business Network

CBS Moneywatch

SmartMoney (Personal Finance Magazine of Wall Street Journal)

Kiplinger's

Newsmax
What Others Are Saying
"The fact that since 1986 Mike Fuljenz has won so many major awards in so many diverse categories, including the NLG top award 'The Clemy,' underscores how important his peers in the rare coin and precious metals markets view Mike's excellent analysis and reporting."

Ed Reiter, Executive Director,
Numismatic Literary Guild &
New York Times Former Columnist
"The Congressional Medal of Honor Foundation salutes Mike Fuljenz for all he does to support our men and women in uniform who defend our freedoms."
Nicholas Kehoe, Former President
Congressional Medal of Honor Foundation & Lieutenant General USAF (Ret)
"Count me among Mike Fuljenz's numerous admirers. His strong leadership, input and support of the American Numismatic Association were instrumental in formulating ANA's coin grading and authentication policies, which is a testament to his commitment to the industry. He is a leader in the coin industry."
Robert Leuver,
Former Director,
Bureau of Engraving & Printing
Former Executive Director,
American Numismatic Association


"Mike Fuljenz has been a member in good standing of the American Numismatic Association (ANA) since 1980. Mike has taught seminars for ANA almost every year since 1982 on advanced coin grading, detection of counterfeit coins, and our "super course" on gold, silver and commemorative coins…He is simply a terrific teacher."
James Taylor,
Former Director,
ANA Educational Services


Metals Market Report Archive

The Michael Fuljenz Metals Market Report: January 2013, Week 2 Edition
Gold fell sharply on Friday, after holding up well for most of last week. The reason for the quick fall was the release of the Federal Open Market Committee (FOMC) minutes from their last meeting, in which they said that Quantitative Easing (QE) may not be continued beyond the end of 2013, whether or not the unemployment drops to 6.5%. Gold dropped to the low $1630s early Friday but picked up some positive steam later in the day when the U.S. jobs report reflected modest job growth and a stubbornly high 7.8% unemployment rate, indicating that the Fed will not be too quick to change their "QE" policies.
If Congress Doesn't Cut Spending Soon, Rating Agencies May Downgrade U.S. Debt
While the government seemed to avoid falling over the "fiscal cliff" last week, they really only addressed one of three major problems, tax rates. They didn't address spending or the debt ceiling. In fact, the U.S. government hit its current ($16.4 trillion) debt ceiling last week, so Treasury Secretary Tim Geithner had to shift some accounts around to avoid default on the debt. The spending cliff deadline is now February 28 (automatic spending cuts were delayed only two months), while the debt ceiling is even more urgent.
The three major credit rating agencies are losing their patience with the "full faith and credit" of the U.S. government. We may see one or more credit downgrades in the next three months if Congress does not address both the debt ceiling and spending issues in a timely manner. This happened once before, and it was very positive for gold. In August of 2011, Standard & Poor's downgraded U.S. sovereign debt by just one notch, but that sent the stock market down and pushed gold up to over $1900, its all-time high.
A year later, the same drama began to unfold. In September, 2012, Moody's warned that it would likely downgrade America's credit rating if there is no improvement in forecasted budget deficits. Meanwhile, the third top rating agency, Fitch Ratings, issued a similar warning in November. After Washington jumped "halfway" off the cliff January 1, by waiting until the last moment to address tax rates and doing nothing about spending, Moody's re-iterated that they still have a "negative outlook" on their ratings of U.S. debt, since there has been "no meaningful improvement" on the spending side. In the first year of President Obama's second term, we could see all three ratings agencies demote U.S. Treasury securities.
America just gave President Obama four more years. Gold was $729 the day before President Obama was elected in 2008. The day after he was re-elected in 2012, gold closed at $1715, for a 135% increase in his first term as President. If we see a similar 135% rise in his next four years, gold will trade at over $4,000 per ounce in November, 2016, unless our elected politicians suddenly grow some stiff backbones.
Most Major Central Banks of the World Continue to "Ease" (Print Money)
Last Friday's sell-off was an overreaction to a rumor of a hypothetical termination of the Fed's long-term inflationary policies. In truth, nothing has been solved (or even seriously addressed) in terms of cutting federal spending or reducing future budget deficits. As long as "Helicopter Ben" Bernanke runs the Fed, and as long as the U.S. economy continues a slow-growth path, amid rising deficits, the Federal Reserve Board will likely continue with their super-easy money policies, which have been in place since late 2008.
However, even if the Fed stops its current $1 trillion-per-year bond-buying plan at the end of 2013, the world's other major central banks are loosening their credit reins to spur their slow economies. There is a global "race to the bottom" in currency values. The eight largest central banks of the developed world are all expanding their money supply. Several central banks meet this week to discuss cutting rates further.
On Wednesday, January 9, there is "a good chance" that the Bank of Thailand will cut rates again, according to analysts at Brown Brothers Harriman
On Thursday, January 10, the European Central Bank (ECB) will meet and probably cut key interest rates by 25 basis points (0.25%), according to High Frequency Economics.
The Bank of England also meets on Thursday, but they will likely stand pat on rates.
On Friday, January 11, the Bank of (South) Korea could possibly cut rates as well.
In addition, the Bank of Japan is currently more accommodative than ever. (They meet on January 21).
As for the U.S. Federal Reserve, we should watch what they do more than what they say. The Fed has been inflating the money supply for four years, keeping interest rates near zero, even when the economy and stock market recovered strongly in 2009 through 2011. So, whether the economy turns back toward recession, or continues to grow slowly (as it is now) or takes off on a strong recovery, the Fed has shown that it will keep interest rates low and money supply flowing, almost no matter what the economy does.
$20 Carson City Gold Coins
Periodically, I will post graphs of how various coins have performed over time. For many years, I have liked the historic $20 Carson City gold coins. Currently, I believe it is a historically opportune time to acquire better date, high rarity factor, gold coins in better grades. This week's graph shows how rare Carson City $20 coins totaling $10,000 would have increased in the past one year that I have purchased them. The graph reflects the price gains of actual coins I have been fortunate to buy over the past year.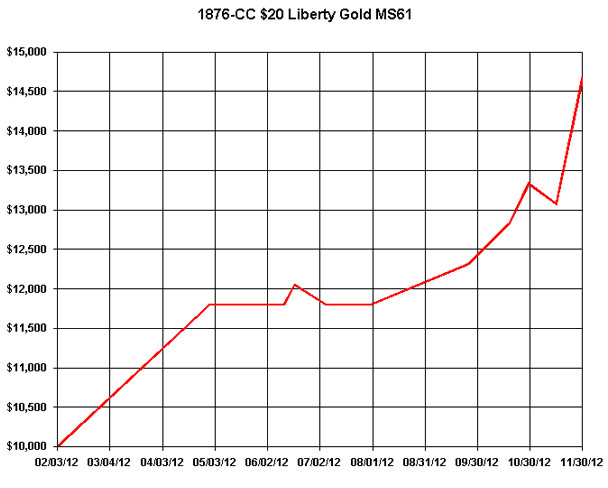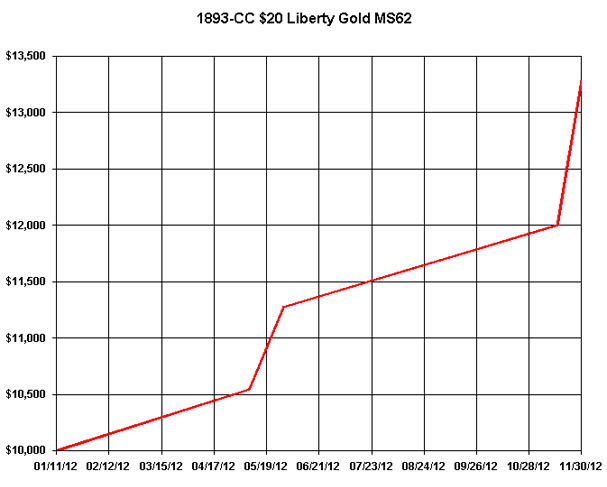 As you can see, there are price dips along the way. That's why I recommend at least a 5-10 year hold period on rare coin purchases. In the shorter time frames, price performance can lag, only to be followed by impressive gains. We all know that past performance of one coin does not guarantee future performance for all coins, but we can still learn many lessons from history. Many experts recommend buying better dates and grades because of often better long term performance for much of the past 100 years. Read my award-winning books to learn about famous very successful long-term gold coin buyers like Louis Eliasberg.
---

Important Disclosure Notification: All statements, opinions, pricing, and ideas herein are believed to be reliable, truthful and accurate to the best of the Publisher's knowledge at this time. They are not guaranteed in any way by anybody and are subject to change over time. The Publisher disclaims and is not liable for any claims or losses which may be incurred by third parties while relying on information published herein. Individuals should not look at this publication as giving finance or investment advice or information for their individual suitability. All readers are advised to independently verify all representations made herein or by its representatives for your individual suitability before making your investment or collecting decisions. Arbitration: This company strives to handle customer complaint issues directly with customer in an expeditious manner. In the event an amicable resolution cannot be reached, you agree to accept binding arbitration. Any dispute, controversy, claim or disagreement arising out of or relating to transactions between you and this company shall be resolved by binding arbitration pursuant to the Federal Arbitration Act and conducted in Beaumont, Jefferson County, Texas. It is understood that the parties waive any right to a jury trial. Judgment upon the award rendered by the Arbitrator may be entered in any court having jurisdiction thereof. Reproduction or quotation of this newsletter is prohibited without written permission of the Publisher.