Media Appearances
New York Times

The Wall Street Journal

New York Times

USA Today

Bloomberg TV

NRA News

AMAC.us (Money Columnist)

MoneyNews.com
(Insider Columnist)

Forbes

NASDAQ

NBC News

CNBC

Fox Business Network

CBS Moneywatch

SmartMoney (Personal Finance Magazine of Wall Street Journal)

Kiplinger's

Newsmax
What Others Are Saying
"The fact that since 1986 Mike Fuljenz has won so many major awards in so many diverse categories, including the NLG top award 'The Clemy,' underscores how important his peers in the rare coin and precious metals markets view Mike's excellent analysis and reporting."

Ed Reiter, Executive Director,
Numismatic Literary Guild &
New York Times Former Columnist
"The Congressional Medal of Honor Foundation salutes Mike Fuljenz for all he does to support our men and women in uniform who defend our freedoms."
Nicholas Kehoe, Former President
Congressional Medal of Honor Foundation & Lieutenant General USAF (Ret)
"Count me among Mike Fuljenz's numerous admirers. His strong leadership, input and support of the American Numismatic Association were instrumental in formulating ANA's coin grading and authentication policies, which is a testament to his commitment to the industry. He is a leader in the coin industry."
Robert Leuver,
Former Director,
Bureau of Engraving & Printing
Former Executive Director,
American Numismatic Association


"Mike Fuljenz has been a member in good standing of the American Numismatic Association (ANA) since 1980. Mike has taught seminars for ANA almost every year since 1982 on advanced coin grading, detection of counterfeit coins, and our "super course" on gold, silver and commemorative coins…He is simply a terrific teacher."
James Taylor,
Former Director,
ANA Educational Services


Metals Market Report Archive

The Michael Fuljenz Metals Market Report: January 2013, Week 1 Edition

Gold closed 2012 with its 12th straight positive year, up 6.5% for the year and up over 510% for the last 12 years vs. a small (8%) gain for the broad S&P 500, a representative measure of U.S. stocks. On the last day of 2012, Gold enjoyed a sharp ($20) rise, as Washington lawmakers waited until the last second, on New Year's Day itself, to enact a compromise bill, "kicking the spending can down the road" while raising taxes on those earning over $400,000 (single) or $450,000 (couple). On the first business day of 2013, gold added another $15 rise to $1690 early on January 2, 2013.
Gold vs. Stocks In The Last 12 Years
Before looking ahead to 2013, let's take a moment to look at the last 12 years of gold's bull market. Gold has risen every year since 2001, for a total 510% gains vs. just 8% for the S&P 500, a broad measure of U.S. stocks. However, the S&P 500 index is constantly updated, replacing weaker with stronger, to reflect changes on Wall Street. By comparison, gold never changes. One ounce of gold is the same now as it was 5,000 years ago.
In 2001, gold began the new century with a small (0.8%) gain, followed by a big (25.6%) gain in 2002 and even bigger gains of 31.9% in 2007 and 29.2% in 2010, for a 12-year average annual gain of 16.3%.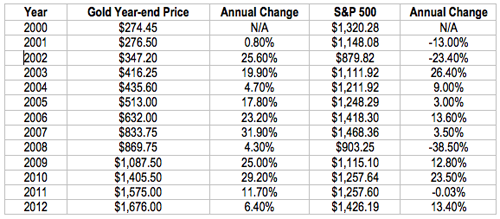 Two weeks ago, gold had a sharp downdraft, putting its 12-year winning streak in danger, but that was due to a concerted anti-gold "bear raid" by some leading New York investment firms. Here's that story.
Gold's Mid-December Swoon Paved the Way for a Strong Year-End Rally
Gold dipped sharply in the middle of December, only to recover strongly on New Year's Eve. Something strange was happening, but nobody quite knew how to explain the mid-December dip, except to blame "year-end profit-taking" in advance of the potentially higher capital gains tax rates to be enacted in 2013.
Now, we know more about the mid-December dip, thanks to Frank Holmes, CEO and Chief Investment Officer of U.S. Global Investors, a leading mutual fund company. In his December 24 "Frank Talks" (blog site), Holmes said that industry sources revealed that Morgan Stanley Wealth Management had advised its clients to sell two of gold-bug John Paulson's funds on December 12. When somebody as big and strong as Morgan Stanley speaks, investors listen and act, so the redemptions from those Paulson funds caused Paulson to sell gold and gold shares to meet the sudden demand for cash redemptions.
Those redemptions caused gold to fall sharply on December 12. That was followed by a sustained selling spree by New York's "momentum investors," which pushed gold down from $1716 on the December 12 London pm fix to $1648 on the winter solstice (Friday, December 21) morning fix. This mid-December gold slump was the opposite of a "Santa Claus Rally." It was more like a Golden Grinch Attack. But all's well that ends well. Gold recovered from that pre-Christmas bear attack to finish 2012 with a big surge.
Putting Your Children And Grandchildren Through College With Rare Coins - A True Story
College tuition costs at the best schools are astronomical. Even four years at a state university will set you back a pretty penny. If you have young children, by the time they're ready for college, the costs will be beyond astronomical.
People have different strategies for building a college education nest egg for their kids. But a friend of mine - I'll call him "Mr. B" - hit on an inventive and very profitable way to build a college fund for his youngsters. Mr. B is a prominent fellow numismatist and coin dealer who has held numerous influential positions in national coin industry groups. I was impressed with his creative college savings plan, and I think his story is worth sharing with you.
Mr. B's first two children, a girl and a boy, were born in the late 60s and early 70s. Mr. B launched his plan right away to be ready financially for their higher education. Every year he bought $1,000 of well-known companies' stocks for each kid. He stuck to the axiom of "invest in what you know" and bought companies that affected his children's lives, like Johnson & Johnson (because they make baby powder and no-tears shampoo). As they grew out of the toddler stage, he bought companies like toymaker Mattel and, of course, Disney. When they were teens, he bought consumer product companies like Coca-Cola.
Now, here's the unusual part of Mr. B's strategy. In addition to building a stock portfolio for each child every year, he also invested $1,000 in high-quality U.S. gold and silver coins for each of them. He chose only gem uncirculated or proof coins that were 50 to 150 years old. He completed a U.S. gold coin type set for each child. He also enhanced their coin portfolios with many gem-quality silver coins.
Mr. B told me that his plan of investing in stocks and coins became much more than just a prudent financial exercise. "It was a bonding experience," he said. "It brought us closer together as a family while instilling in my children valuable life skills." The kids got excited when annual reports came out, which Mr. B read with them, so they could see how the companies they owned were doing. They followed the stock charts of their portfolios and even went to shareholder meetings. The kids became absorbed in the history of the coins in their portfolios and avidly dug into reading and learning about them - which paid extra dividends later on when they got outstanding grades in college history courses.
Mr. B was able to finance the two children's educations by selling the stock and coin portfolios. Adding it all up, he noted that the money he invested in coins paid off far better than the money he put into stocks.
Here's how the actual performance numbers worked out. Investing $1,000 in stocks and $1,000 in high quality gold and silver coins for each child each year for 18 years yielded these results:
First Child:
18-year $18,000 investment in stocks: $40,500 profit, 225% growth
18-year $18,000 investment in high quality U.S. coins: $68,000 profit, 377% growth
Second Child:
18-year $18,000 investment in stocks: $38,000 profit, 211% growth
18-year $18,000 investment in high quality U.S. coins: $77,500 profit, 430% growth
Aggregate:
Stocks: Original investment $36,000 ($18,000 x 2), $78,500 profit, 218% growth
Coins: Original investment $36,000 ($18,000 x 2), $145,500 profit, 404% growth
Many people put cash away in CDs or money market accounts in anticipation of their children's college days. But the meager interest being paid on these accounts against the rapid debasing of the U.S. dollar - and pretty much all world currencies - sucks purchasing power out of the nest egg rather than growing its value. Mr. B's college coin savings plan, on the other hand, paid off with handsome growth.
Investing for Your Children and Grandchildren
We offer parents and grandparents of future college students the opportunity to invest regularly in high-quality mint-state rare gold coins through a strategy developed by America's Gold Expert and Award-Winning rare coin expert, Mike Fuljenz. Through an accumulation plan that we personally outline according to your circumstances and needs, our strategy could provide you with a systematic, smart long-term way to build the resources you need to send the children you love to college.
---

Important Disclosure Notification: All statements, opinions, pricing, and ideas herein are believed to be reliable, truthful and accurate to the best of the Publisher's knowledge at this time. They are not guaranteed in any way by anybody and are subject to change over time. The Publisher disclaims and is not liable for any claims or losses which may be incurred by third parties while relying on information published herein. Individuals should not look at this publication as giving finance or investment advice or information for their individual suitability. All readers are advised to independently verify all representations made herein or by its representatives for your individual suitability before making your investment or collecting decisions. Arbitration: This company strives to handle customer complaint issues directly with customer in an expeditious manner. In the event an amicable resolution cannot be reached, you agree to accept binding arbitration. Any dispute, controversy, claim or disagreement arising out of or relating to transactions between you and this company shall be resolved by binding arbitration pursuant to the Federal Arbitration Act and conducted in Beaumont, Jefferson County, Texas. It is understood that the parties waive any right to a jury trial. Judgment upon the award rendered by the Arbitrator may be entered in any court having jurisdiction thereof. Reproduction or quotation of this newsletter is prohibited without written permission of the Publisher.