Media Appearances
New York Times

The Wall Street Journal

New York Times

USA Today

Bloomberg TV

NRA News

AMAC.us (Money Columnist)

MoneyNews.com
(Insider Columnist)

Forbes

NASDAQ

NBC News

CNBC

Fox Business Network

CBS Moneywatch

SmartMoney (Personal Finance Magazine of Wall Street Journal)

Kiplinger's

Newsmax
What Others Are Saying
"The fact that since 1986 Mike Fuljenz has won so many major awards in so many diverse categories, including the NLG top award 'The Clemy,' underscores how important his peers in the rare coin and precious metals markets view Mike's excellent analysis and reporting."

Ed Reiter, Executive Director,
Numismatic Literary Guild &
New York Times Former Columnist
"The Congressional Medal of Honor Foundation salutes Mike Fuljenz for all he does to support our men and women in uniform who defend our freedoms."
Nicholas Kehoe, Former President
Congressional Medal of Honor Foundation & Lieutenant General USAF (Ret)
"Count me among Mike Fuljenz's numerous admirers. His strong leadership, input and support of the American Numismatic Association were instrumental in formulating ANA's coin grading and authentication policies, which is a testament to his commitment to the industry. He is a leader in the coin industry."
Robert Leuver,
Former Director,
Bureau of Engraving & Printing
Former Executive Director,
American Numismatic Association


"Mike Fuljenz has been a member in good standing of the American Numismatic Association (ANA) since 1980. Mike has taught seminars for ANA almost every year since 1982 on advanced coin grading, detection of counterfeit coins, and our "super course" on gold, silver and commemorative coins…He is simply a terrific teacher."
James Taylor,
Former Director,
ANA Educational Services


News
Mike Fuljenz Latest Gold Coins Book Wins NLG 2015 Book of the Year Award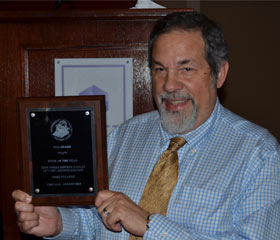 Mike Fuljenz proudly holds his 2015 Book of the Year Award at the Chicago World's Fair of Money.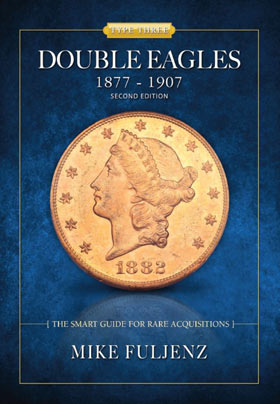 Type Three Double Eagles 1877 - 1907, 2nd Edition, by Mike Fuljenz has been named Book of the Year by the Numismatic Literary Guild.
(Rosemont, Illinois) – The acclaimed gold coins reference book by Michael Fuljenz, Type Three Double Eagles 1877 – 1907, 2nd Edition, has received the Book of the Year Award from the prestigious Numismatic Literary Guild (NLG). The NLG is a nonprofit organization composed of the country's leading rare coin hobby/trade marketplace editors and writers.

"I've received many honors for my writing the past three decades, but this is the first time I've received the Book of the Year award. I'm grateful for the recognition given to me by the top literary organization in numismatics citing it as the work with the greatest potential impact on numismatics," said Fuljenz.

The important new book by Fuljenz provides beginning and advanced collectors a date-by-date analysis of every coin in the Type Three Double Eagle ($20 denomination gold coin) series, historical vignettes and more than 100 full-color photographs.
Type Three Double Eagles were struck at five U.S. mints: Carson City, Denver, New Orleans, Philadelphia and San Francisco. Unlike Type One Double Eagles, Type Three have the motto, In God We Trust, and unlike Type Two coins the Type Three have the denomination spelled out as TWENTY DOLLARS rather than TWENTY D.
Mike Fuljenz, also won two other NLG 2015 awards in the audio-visual category: Best Radio Report for "The Coin Show With Mike Fuljenz," on KLVI 560 Radio in Beaumont, and Best Television Report for "The Coin and Precious Metals Report" on Fox 4 KBTV in Beaumont.
Over the years, he now has won 56 awards from the NLG for his consumer protection and education newsletters and earlier books and articles.
The awards were presented on August 13, 2015 during the American Numismatic Association World's Fair of Money in the Chicago suburb of Rosemont, Illinois.
Fuljenz also received an award of appreciation from the Numismatic Crime Information Center (NCIC) and its founder, former Pantego, Texas Police Chief Doug Davis. The award plaque reads: "Presented to Mike Fuljenz in recognition of your continuous support, dedication and contributions to NCIC in the fight against numismatic crime.'
The nonprofit organization assists law enforcement agencies across the country to help solve crimes involving rare coins and banknotes. Fuljenz provided more than two dozen Chicago area law enforcement officers with crime solving tips during a day-long seminar hosted by Chief Davis and his organization.
Fuljenz has previously been a featured speaker at other Numismatic Crime Information Center seminars in other cities, and he is on the Board of Directors of Crime Stoppers in his hometown of Beaumont, Texas.

Known as America's Gold Expert®, Fuljenz has won dozens of prestigious national and regional awards and honors from the NLG, the Press Club of Southeast Texas and other organizations for his consumer education and protection work in rare coins and precious metals. He is now the recipient of the top three awards annually presented by the NLG: Book of the Year (2015); the "Clemy" Award (2013), the organization's highest honor; and the James L. Miller Award (2013) for best overall story or article.
A respected community leader in his hometown of Beaumont, Texas, Mike also has served with distinction as a consultant to the Federal Trade Commission, United States Mint and Royal Canadian Mint, is on the ICTA Board of Directors and is a member of the Professional Numismatists Guild.