Media Appearances
New York Times

The Wall Street Journal

New York Times

USA Today

Bloomberg TV

NRA News

AMAC.us (Money Columnist)

MoneyNews.com
(Insider Columnist)

Forbes

NASDAQ

NBC News

CNBC

Fox Business Network

CBS Moneywatch

SmartMoney (Personal Finance Magazine of Wall Street Journal)

Kiplinger's

Newsmax
What Others Are Saying
"The fact that since 1986 Mike Fuljenz has won so many major awards in so many diverse categories, including the NLG top award 'The Clemy,' underscores how important his peers in the rare coin and precious metals markets view Mike's excellent analysis and reporting."

Ed Reiter, Executive Director,
Numismatic Literary Guild &
New York Times Former Columnist
"The Congressional Medal of Honor Foundation salutes Mike Fuljenz for all he does to support our men and women in uniform who defend our freedoms."
Nicholas Kehoe, Former President
Congressional Medal of Honor Foundation & Lieutenant General USAF (Ret)
"Count me among Mike Fuljenz's numerous admirers. His strong leadership, input and support of the American Numismatic Association were instrumental in formulating ANA's coin grading and authentication policies, which is a testament to his commitment to the industry. He is a leader in the coin industry."
Robert Leuver,
Former Director,
Bureau of Engraving & Printing
Former Executive Director,
American Numismatic Association


"Mike Fuljenz has been a member in good standing of the American Numismatic Association (ANA) since 1980. Mike has taught seminars for ANA almost every year since 1982 on advanced coin grading, detection of counterfeit coins, and our "super course" on gold, silver and commemorative coins…He is simply a terrific teacher."
James Taylor,
Former Director,
ANA Educational Services


News
Coin Expert Mike Fuljenz of Beaumont Wins Five Journalism Awards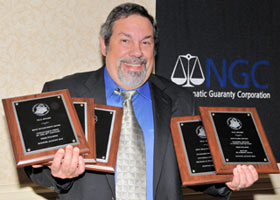 (Beaumont, Texas) – Coin expert Mike Fuljenz, of Beaumont, Texas has been honored with five national awards for excellence in print and broadcast journalism for his writings and reports about gold and the rare coin market. The five first-place honors established a new record for Fuljenz, and no individual received more awards in this year's competition.
The awards were presented by the Numismatic Literary Guild (NLG), a nonprofit organization founded in 1968 that annually presents national awards to recognize outstanding journalism on the diverse subject of money from ancient to modern. Considered to be the epitome of writing and broadcasting excellence in this field, the 2010 awards were presented at the American Numismatic Association World's Fair of Money in Boston, Massachusetts on August 12, 2010.
According to NLG Executive Director Ed Reiter, Fuljenz received the Best Radio Report Award (in conjunction with KLVI 560 in Beaumont) for his work regarding an on-going series of investigative stories urging consumers to be cautious when selling gold coins and jewelry to some traveling gold buyers.
"In one instance, a gold buyer who temporarily set up at a hotel offered only $60 for a U.S. gold coin that experts valued at $10,000," Fuljenz said.
He also received his fourth overall Best Dealer Publication Award, as well as awards for Best Non-Commercial Video for his educational seminar, "Gold Coin Market Today," at the Money Show of the Southwest in Houston in December 2009, Best Writer Award for the NLG newsletter, and Best Investment Book for his just-published reference guide on an important United States coin series, Indian Gold Coins of the 20th Century.
Since 1986, Fuljenz now has been honored with a total of 35 NLG awards in nine (9) different categories. "No one else I can recall has ever won in so many diverse categories over the years," said Reiter.
Fuljenz advises consumers who want to sell gold coins and jewelry to first shop around. "The results from recent 'seller beware' investigations are not necessarily indicative of all traveling gold buyers, but people who want to sell should consult with local merchants in their community who may offer more money. And always get more than one offer," he said.