The Michael Fuljenz Metals Market Report: May 2012, Week 1 Edition
Gold rose $22 last week, while silver and platinum fell, but gold is merely catching up to the other two metals, which have grown faster than gold so far during 2012. Gold reached a new two-week high of $1667 on Friday, its highest price since April 13, based on slower-than-expected U.S. GDP growth, at 2.2% for the first quarter (vs. expectations of 2.7%). The crisis in Europe also led to rising demand for gold in Europe, as an alternative to the sinking euro. Gold fell slightly, on a stronger dollar, on April 30.
Gold 52 weeks ago (April 28, 2011): $1536.50
Gold's average price during 2012: $1681.66
Gold's London Low for 2012: $1590 on January 3
Gold's London High for 2012: $1788 on February 29
Last Week In Metals: Gold rose $22 (+1.3%), silver fell $0.55 (-2.0%), platinum fell $6 (-0.4%) and stocks rose by 2.3%.
This Week Marks the Anniversary of Silver's "Bubble" Peak of $49 Per Ounce
On Friday, April 29, 2011, silver topped $49 and seemed about to set a new record high above $50, but then the bottom fell out suddenly, with silver falling 30% in one week to close at $34.20 the next Friday, May 6. During this past week, many publications printed bearish articles about silver's fundamentals, saying that silver will have a hard time reaching $50 again, or perhaps even $40. Barron's featured one article today (April 30) titled "Beware: Silver Can Bite" and one last week (April 23), titled, "Silver's Thrills and Chills." We'll get to those articles in a minute, but first this brief trip down memory lane.
Last year at this exact time, I warned that silver was at unsustainable highs, that it had risen too far too fast. While speaking at the NRA conference, "Freedom First" in Pittsburgh on the weekend of silver's peak (April 29 to May 1, 2011), I brought out some of the same points we had already made in the Metals Report (see below). At NRA's big conference, my keynote address summarized what we wrote in April.
The Metals Report, April 11, 2011: "We must be cautious in chasing any runaway bull market. Trees don't grow to the sky, and a rapid doubling usually means that a painful short-term correction could be in the cards. Silver is not as rare as gold. Miners can find more silver easier than they can find more gold. If gold sank $100 (7%) in a month or two, silver could fall by 20% or more."
The Metals Report, April 25, 2011: "Silver rose 21% in February, 13% in March and 27% so far in April. On January 28, 2011, silver traded at $26.68, so at this morning's $48.44 peak, silver has risen over 80% in less than three months. By comparison, gold and platinum are in a solid long-term bull market, with long base-building periods of two steps up, one step back. Silver seems only to surge up."
After the week of May 2-6, 2011, when silver fell so rapidly, The Wall Street Journal printed a Page 1 story in their weekend (May 7-8, 2011 edition), in which they blamed the silver bubble on "the advice of newsletter writers, obscure websites and coin-shop proprietors." That may be true of some overzealous editors and dealers, but we were very cautious about silver from January to April, especially during April.
Barron's Warns About Investing in Silver This Year
Now, we turn to the present views on silver. Last week (April 23), Barron's widely-watched "Previews" column featured a prominent sidebar on silver, titled, "Silver's Thrills and Chills." The article was generally positive, since it talked about the likelihood of renewed investor demand for silver, based on an interview with Philip Klapwijk, global head of metals analytics for Thomson Reuters GFMS and author of the Silver Institute's 2012 World Silver Survey. Klapwijk said that silver bar investment demand rose 67% last year to 95.7 million ounces, including 11 million silver ounces bought by private investors in China. In addition, demand for American silver-eagle bullion coins grew 19% last year to a record 118.2 million ounces. Total global investment demand - coins, bars and ETFs - reached $10 billion in 2011.
This year, says Klapwijk, physical silver demand is off its torrid pace of last spring, but the purchase of silver through ETFs is up sharply, reaching 14 million ounces in the first quarter, equivalent to more than half of the full-year 2011 ETF demand. Silver is usually more volatile than gold, and that was certainly true last April, when silver shot up to nearly $50 per ounce. Hardly any analyst thinks such a big move is possible this year, but concerns about European and American banks could send more investors to silver.
This week, Barron's current article, "Beware: Silver Can Bite" (April 30, by Tatyana Shumsky) takes another angle on silver, saying that it is too volatile and dangerous for most investors. The article begins, "Silver's charms are fading, and so are chances of a quick silver comeback. The metal has had a manic-depressive 12 months." The article recited silver's rapid rise and fall last year and said, "The metal never recovered after exchange owner CME Group raised trading margins to quell the extreme volatility."
The article was unrelentingly bearish, saying "silver bites people; it's nasty" and "silver's best days are behind it." The article then quotes the lack of interest in silver as reflected by the growing stores of silver in the CME warehouses, "touching a 10-year high at 140.6 million troy ounces, or about 18% of 2011 global mine output." Sales of silver bullion coins by the U.S. Mint have slowed this year. In the first quarter, 210,500 troy ounces were sold vs. 299,500 troy ounces in the first quarter last year, when silver was soaring in price. And as the global economy slows, silver use in industry has also been declining.
Now, let's combine these bullish and bearish articles with a little balance. As you can see from the table of price performances on page 1 of each Metals Market Report, silver is still leading the other precious metals and the stock market over the past 7, 10 and 12 years (since 2005, 2002 and 2000), and it is still leading gold this year. Silver has stayed above $30 per ounce since January 17, 2012, so there is some base-building going on. The price peaked at $37 at the end of February, but that was a temporary spike.
Taking a more positive approach, metals consultancy Thompson Reuters GFMS predicts that silver's industrial demand will pick up in the second half to give the metal a boost. Even without a new surge in investment demand, GFMS forecasts that silver will trade in a range of $28 to "just north of $40" for the rest of 2012.
71% of Central Bankers are Now More Favorable to Gold than Currencies
Central banks are back in the market for gold. The International Monetary Fund (IMF) just reported the central bank purchases for March: Mexico bought 16.8 tons of gold, worth over $900 million. Russia added 16.5 tons and Turkey bought 11.5 tons. Kazakhstan, Ukraine, Tajikistan and Belarus also raised reserves, according to the IMF. That's at least 45 tons, a 540-ton annual rate. Last year, central banks bought a record 439.7 tons, so this year could set a new record high in central bank gold purchases.
GoldCore commented on this trend with some dramatic observations: "Central banks are expanding reserves due to concerns about the dollar, euro, sterling and all fiat currencies. There is an increasing realization amongst central bankers that gold is a less risky alternative to most paper currencies and a recent survey showed that the majority of central bank reserves managers were favorable towards gold. Signifying the mood of caution among the world's central bankers, 71% of those polled said gold was a more attractive investment than it had been at the start of last year."
Wow! That's amazing, since gold was much lower-priced at the start of 2011. The opening price in 2011 was $1388 and the closing price on December 31 was $1531, for a gain of $143 (10.3%), after peaking at over $1900 in September. Today, with gold in a narrow-trading range in the mid-$1600s, central banks may feel that this is their last chance to add gold before the next leg of the bull market begins. A rising gold market has historically created new coin customers and has been good long term for the gold coin market.
Some central banks (like China) don't tell the world what they're doing, but we may find out after the fact that China and many other "emerging economies" are already preferring gold to the established paper products of the "developed world" (U.S., Europe, Britain), with their "fiat" currencies. (In this context, the word "fiat" means "by demand of the king" or "a dollar is WORTH $1 because I SAY it's worth $1.")
If it quacks like a fiat, walks like a fiat (or drives like a fiat), it's a fiat. Gold is the Rolls Royce of money. With nearly three fourths of central bankers preferring a Rolls Royce to a Fiat, we can proudly tell our customers that "the majority of central bankers believe as you do, that gold is preferable to paper money."
1991 $25 Gold Eagle Gem Uncirculated
For many years I have purchased historic Type I, Roman numeral, $25 American Gold Eagles for collectors, investors and placement in IRA's, three important demographics of demand. This week's graph shows how $10,000 worth of Gem Uncirculated 1991 $25 American Gold Eagles I purchased in 1997 would have increased in price over the years I have purchased them. This graph shows an increase from $10,000 to about $80,000 in the 15 years since 1997.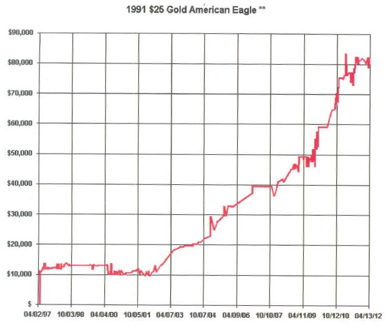 As you can see, there are price dips along the way. That's why I recommend at least a 5-10 year hold period on rare coins. In the shorter time frames in this graph, price performance can lag for a few years, only to be followed by impressive gains. We all know that past performance of one coin does not guarantee future performance for all coins, but we can still learn many lessons from history.

Important Disclosure Notification: All statements, opinions, pricing, and ideas herein are believed to be reliable, truthful and accurate to the best of the Publisher's knowledge at this time. They are not guaranteed in any way by anybody and are subject to change over time. The Publisher disclaims and is not liable for any claims or losses which may be incurred by third parties while relying on information published herein. Individuals should not look at this publication as giving finance or investment advice or information for their individual suitability. All readers are advised to independently verify all representations made herein or by its representatives for your individual suitability before making your investment or collecting decisions. Arbitration: This company strives to handle customer complaint issues directly with customer in an expeditious manner. In the event an amicable resolution cannot be reached, you agree to accept binding arbitration. Any dispute, controversy, claim or disagreement arising out of or relating to transactions between you and this company shall be resolved by binding arbitration pursuant to the Federal Arbitration Act and conducted in Beaumont, Jefferson County, Texas. It is understood that the parties waive any right to a jury trial. Judgment upon the award rendered by the Arbitrator may be entered in any court having jurisdiction thereof. Reproduction or quotation of this newsletter is prohibited without written permission of the Publisher.