Media Appearances
New York Times

The Wall Street Journal

New York Times

USA Today

Bloomberg TV

NRA News

AMAC.us (Money Columnist)

MoneyNews.com
(Insider Columnist)

Forbes

NASDAQ

NBC News

CNBC

Fox Business Network

CBS Moneywatch

SmartMoney (Personal Finance Magazine of Wall Street Journal)

Kiplinger's

Newsmax
What Others Are Saying
"The fact that since 1986 Mike Fuljenz has won so many major awards in so many diverse categories, including the NLG top award 'The Clemy,' underscores how important his peers in the rare coin and precious metals markets view Mike's excellent analysis and reporting."

Ed Reiter, Executive Director,
Numismatic Literary Guild &
New York Times Former Columnist
"The Congressional Medal of Honor Foundation salutes Mike Fuljenz for all he does to support our men and women in uniform who defend our freedoms."
Nicholas Kehoe, Former President
Congressional Medal of Honor Foundation & Lieutenant General USAF (Ret)
"Count me among Mike Fuljenz's numerous admirers. His strong leadership, input and support of the American Numismatic Association were instrumental in formulating ANA's coin grading and authentication policies, which is a testament to his commitment to the industry. He is a leader in the coin industry."
Robert Leuver,
Former Director,
Bureau of Engraving & Printing
Former Executive Director,
American Numismatic Association


"Mike Fuljenz has been a member in good standing of the American Numismatic Association (ANA) since 1980. Mike has taught seminars for ANA almost every year since 1982 on advanced coin grading, detection of counterfeit coins, and our "super course" on gold, silver and commemorative coins…He is simply a terrific teacher."
James Taylor,
Former Director,
ANA Educational Services


Welcome to Mike Fuljenz's Official Site
Michael Fuljenz admits, "I love coins. From the very first Indian quarter-eagle gold piece I bought for my personal collection, to the latest batch of twenty-dollar gold pieces that I gathered together for a group of collectors, I've been hooked." Michael adds, "I worked hard, saved up to buy favorite coins and embarked on what I know now is a lifelong love affair. Coin collecting fires my imagination, and I want to pass my love of coins on to others."
Numismatic Specialization:
Coin grading
Coin authentication
Coin appraisal
Coin fraud concerns
Coin fraud lawsuit help
Coin arbitration help
Coin attorney help
Coin & bullion advice
Luckily, I've turned my love for coins and the glimpses of art and history they convey into a vocation. I've been privileged to share my fascination with thousands of collectors and investors, many of whom have become lifelong friends along the way.
---
Mike Fuljenz helps 42 Florida detectives become more knowledgeable about how to handle and investigate numismatic crime.
---
As you probably know, ICTA is the national trade association that is the "watch dog" for the coin/precious metals community, most especially on the federal level. We're a comparatively very small association and can only do so much with our small staff. When being proactive with in-state dealers to try to achieve a state sales tax exemption on coins and precious metals, they usually hire a lobbyist and then work with ICTA for the education part. We then all work together to first educate the lobbyist who then may find an appropriate legislator to sponsor the bill before going to the next step of educationg the rest of the legislators. This slightly an oversimplification, but you get the idea.
---
Michael Fuljenz was honored the past year by numerous national and local organizations for his professional writings and consumer protection work as well as his civic activities. Major news organizations, including Fox Business Network, Forbes and NBCNews.com, sought his comments regarding the rare coin and bullion markets, and he was featured in a profile story in the Beaumont Enterprise VIP magazine.

"I've always tried to provide the public with must-know information so they can make informed decisions before they buy or sell rare coins or bullion coins. I am grateful for the recognition of my consumer protection and education efforts," said Fuljenz who is known as America's Gold Expert®.
---

August 2014, Week 3 Edition
Gold continues to hover around $1300 per ounce, partly due to the temporarily strong U.S. dollar (vs. the euro). Due to the euro-zone's trade restrictions with Russia, and the threat of a Russian reprisal, some of the major European economies (like Germany) are falling into a recession again, resulting in a weak euro.
In terms of the euro, gold is up about 12% this year (vs. 8% in U.S. dollar terms). In fact, gold in euro terms is now approaching the psychological barrier of 1000 euros per ounce. (If gold trades at $1300 per ounce and the euro sinks to $1.30, then the euro price of gold will reach €1000, an important benchmark.)
---
Robert McEwen, founder of the major mining firm Goldcorp (as well as his own firm, McEwen Mining), told CNBC that gold is "outperforming the Dow and the S&P and large segments of the market" this year. Then, he added, "We're entering a period of the year when there's a seasonal high for gold – September, October is usually a strong period for gold going into the end of the year….There's a lot of armed conflict going on around the world.…I see it ultimately getting to $5,000 an ounce over the next 3-4 years."
---
Commodities analyst Dennis Gartman is not "perma-bull" on gold. He merely follows (and rides) the trends. He also looks at gold in terms of several currencies, not just the dollar. In commenting on the recent price trends of gold in euro terms, he said that "Once €1,000 is taken out – and we think that it shall be, if not today, then next week if the geopolitical events unwind as badly as we fear they might – then there is nothing that stems the advance until €1,100."
---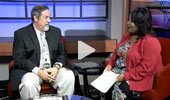 Mike Fuljenz, recent Beaumont Enterprise Award Winner, discusses gold rising, new Kennedy commemorative coins and states that are sales tax free on precious metal transactions.



---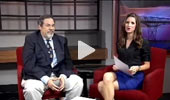 Mike Fuljenz discusses the billions that America would save by eliminating the penny and the dollar bill.




---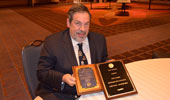 America's Gold Expert® Mike Fuljenz Received 'The Clemy' At 2013 World's Fair of Money America's Gold Expert® Mike Fuljenz, received multiple awards during the annual World's Fair of Money, including one of the profession's most esteemed honors, "The Clemy," for his consumer protection and education work in rare coins and precious metals…
---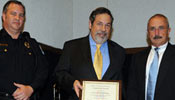 Michael Fuljenz was a keynote speaker at a special training course for Texas law enforcement personnel on the topic of investigating crimes involving rare coins, bullion and jewelry. Mike provided seminar participants with information on where they can promptly get assistance
---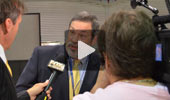 At the American Numismatic Association (ANA) World's Fair of Money in suburban Chicago this month. I am happy to report that I was interviewed by Jeff Flock of Fox Business News, as the show was winding down. He commented on the massive (five-hour long) line of investors wanting to buy the new reverse proof buffalo gold coin from the U.S. Mint. We both noted the rising interest in physical gold.
---
I am urging coin collectors and investors nationwide to promptly contact their Congressional representatives in support of the recently introduced Collectible Coin Protection Act (HR5977).
I was among a half dozen of the country's numismatic leaders who met in Washington, DC on June 28, 2012 with Congressional leaders and staff members to discuss the importance of the proposed legislation to protect the public.
---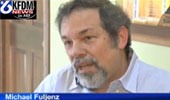 KFDM-TV Channel 6 in my hometown of Beaumont,Texas recently did a Crime Stoppers story about a Texas dealer who reportedly paid only $16,000 for nearly $250,000 of coins sent to him by an 82-year old California woman. The interviewer asked me for consumer protection advice so other people can avoid encountering this kind of problem.